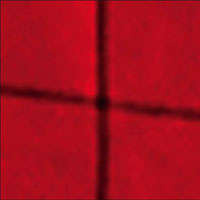 Label:
Three Poplars
Format:
LP
Released:
2003
A Red Score In Tile was released on the Three Poplars label (founded by Andrew Chalk and Christoph Heeman in 2000) as an LP limited to 600 copies. this may seem a lot compared to many runs from the other posts here, but as this is william basinski, the fact it's now out of print hardly comes as a suprise. For me though, this is still an understated record of amazing beauty when compared to the success of his most famous work 'the disintegration loops' (which is amazingly all still available to buy on william basinski's site
here
, and you really ought to)
aside from the fact this is one of my most favourite records, i found everything i felt i could say within this review (or at least, that you would want to hear):-
"Inspired by James Elaine's painting of the same title, Basinski created this extremely minimal composition. The piece takes up both sides of the record, and since it is comprised of a single loop repeated for the entire duration, my first thought is that it might have been better suited for release on CD. But perhaps having that second side—dividing the listener's attention by insisting on an interlude—is deliberate, serving a specific purpose. The piece is quiet, muted, mysterious; a few chords on piano, a slow tape loop, repeated from start to finish. Perhaps nothing happens during the duration of the piece, or perhaps there are slight shifts, disintegrations, changes. If there are, they happen so subtly and so gradually that I didn't notice as I listened, even though my thoughts were captivated all the way through. The entire recording, sounding quite shaky and distorted, is marked by a certain fragility, as if the tape itself is going to break apart at any moment. After listening, you resurface to a world that still seems to sound like this bewitching composition, resounding off the walls, suspended quietly in the air, in the very air you breathe. [Richard di Santo]" 
Tracklisting:
A A Red Score In Tile Pt. 1 (25:56)
B A Red Score In Tile Pt. 2 (21:50)
download
-